CAPSULE DRY POWDER INHALER (DPI)
To design and develop a capsule based dry powder inhaler (DPI) device platform to be equivalent and substitutable to the current market leading device within an aggressive and time critical timescale.
Neucin worked with the client applying our in-depth experience in drug delivery and inhaler device development with multiple product engineering disciplines from across the team to support the development of the device from concept through to clinical, industrialisation and commercial launch.
Together with the client we were able to successfully design and develop a device suitable for high volume manufacture, which demonstrated equivalency to the market leading device in regard to usability, function and drug delivery performance (NGI).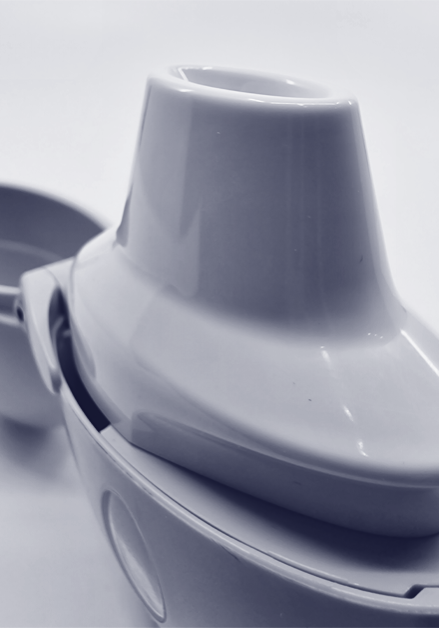 NOVEL LIQUID DRUG CONTAINER PLATFORM
To develop a novel liquid formulation drug container that would be suitable for use with devices utilising soft mist technology with equivalent performance to that of the market leading cartridge container platform.
Neucin utilised different technologies and manufacturing techniques to combine novel blister forming methods and pharmaceutical cold form technical laminates with a unique closure design with a breakable seal to produce a proof of principal (PoP) drug container platform suitable for use with devices utilising softmist technology.
Neucin were able to develop a drug container platform that was simple, innovative and cost effective and offered a real alternative to more traditional injection blow moulding (IBM) containers and accompanying metal cartridges, which are generally more complex and less cost effective.

BESPOKE INHALER TEST EQUIPMENT
All capsule based inhalers rely on the inhalation manoeuvre of the user to achieve the desired dynamic behavioural response of the capsule to ensure the drug is delivered effectively and efficiently to the lungs.
Neucin wanted to understand the capsule response and the resulting dynamic effect upon the device's airflow characteristics, resistance and pressure drop to optimise the drug path geometry.
Currently there is no commercially available device or equipment that can measure and characterise the capsule response and its effect on a device.
To overcome this Neucin developed the P1-ST device, which is a novel standalone analytical device that can detect, measure and record the dynamic capsule response as a live trace in real time and export the data for further analysis.
Using the P1-ST device we were able to rapidly optimise the devices drug path geometry to achieve the greatest capsule dynamic response at the lowest flow rates as well as matching the drug delivery, resistance and capsule dynamic behaviour of the market leading device.

BESPOKE INHALER MEASURING AND INSPECTION EQUIPMENT
To measure and inspect the spray orifice diameter within a metered dose inhaler (MDI) actuator body to discriminate between in-spec and out-of-spec components to a tolerance of ±0.03mm as part of a clients IPC requirements during their manufacturing process.
Neucin executed a technical feasibility to develop a proof-of-principle device, which utilised a CMOS device with an active pixel array matrix to enable high-definition capture of the MDI component geometry.
When presented on the device this allowed for the spray orifice to be profiled and projected onto the sensor array. This generated pixel values for comparison to a known data set to determine whether the test piece's spray orifice met specification.
The results from the technical feasibility showed that the design and technology used as part of the proof-of-principle device could perform the level of discrimination required and would be a suitable platform for further development.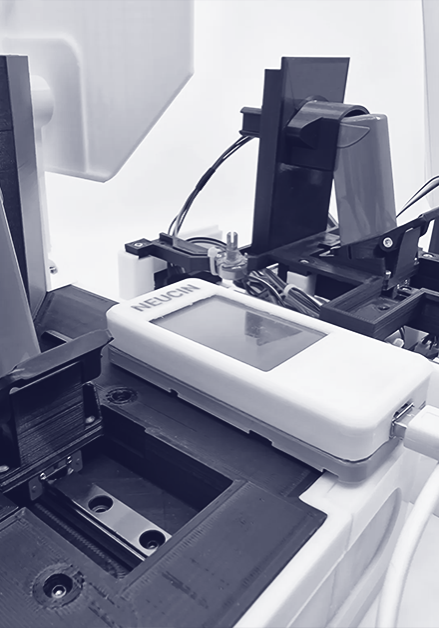 PORTABLE EX-SITU HEART PRESERVATION SYSTEM
To develop an innovative and transformative portable ex-situ heart preservation system that addresses the complexity and cost faced by clinicians when performing heart transplants and to significantly increase the number of viable donor hearts for infants, children and adults.
Neucin worked with the client and the clinical team to develop a small portable system suitable for preserving both adult and paediatric donor hearts for extended periods of time whilst addressing the existing challenges and limitations of heart transplantation.
In less than 1 year Neucin delivered a proof-of-principle (PoP) device that met the clinical requirements of the client and showed the device platform could be developed further to support a potential clinical investigation.
During organ transplantation it is critical to keep the time between organ removal and perfusion on an ex-situ preservation system to a minimum in order to increase the donor organs viability for transplant. The current adopted method of surgical suturing and modification of current cannulation devices is time consuming and complex and seen as a significant drawback of the procedure.
Working with the clinical team Neucin have developed a proof-of-principle (PoP) cannulation system, which facilitates the ability to quickly connect and disconnect the organ upon the ex-situ preservation machine, drastically reducing the amount of time the organ is without perfusion.
Neucin delivered a proof-of-principle (PoP) cannulation system that met the clinical requirements of the clinicians and showed the system could be developed further to support organ transplantation across a range of ex-situ preservation device platforms. 
NOVEL GAS MIXING SYSTEM FOR BLOOD GASES
To overcome the existing limitation associated with the use of pre-mixed gases and develop a novel gas mixing system that could be used in real time to accurately control, mix and dose a range of different gases to achieve the correct blood gases and saturations needed as part of organ transplantation.
Neucin worked with the clinical team to design and develop a proof-of-principle (PoP) gas mixing system that could be used independently or integrated as part of a ex-situ organ preservation machine, which provided the clinicians with a more accurate, controlled and reliable means of managing the blood gases.
Neucin delivered a proof-of-principle (PoP) gas mixing system that met the clinical requirements of the clinicians and was shown to be more accurate and cost effective compared to the use of pre-mixed gas cylinders.

BIO-TISSUE CHARACTERISATION AND MEASUREMENT DEVICE
To design and develop a patient-centred successor device with improved functionality and usability whilst establishing a brand aesthetic more representative of a precision diagnostic instrument.
Neucin worked with the client to redesign their existing product and technology taking an anthropometric and ergonomic design approach combined with a series of user studies to develop a design with the patient at the centre of its focus.
Neucin delivered a design optimised for low volume manufacturing and assembly, which exceeded the clients expectations and has successfully succeeded the client's previous device.